Page \ Park Architects, West 8 Landscape Architects and BuroHappold Engineering
with Charcoalblue and Muir Smith Evans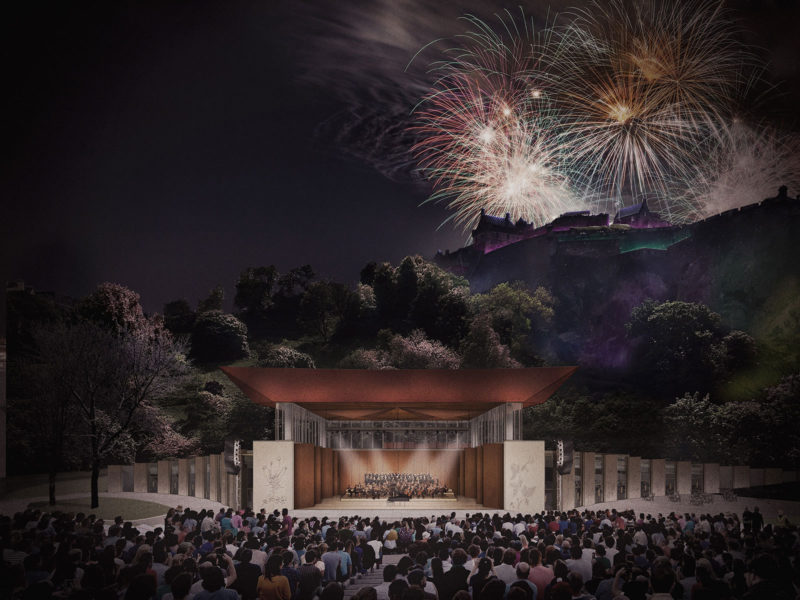 ◀
▶
Princes Street Gardens, linking the New Town to Old, is a landscape for viewing the spectacular setting, a garden of commemoration, and a garden to enjoy. The lengthy flower bank to Princes Street is world unique. Our strategy is simple: we leave this alone.
Splendid new entrances, self-evident way-finding and a re-visioned 'Blaes' area provide for contextual augmentations to a new Ross Pavilion which includes a combined visitor centre and performance venue.
In Classical garden tradition there is a typology of a grotto fed by springs for assembly, marriage, song and dance – the Nymphaeum. In imagining the new Ross Pavilion we have carved into the landscape such a grotto. A stage at the foot of the 'Castle Rock'; marking the memory of the old 'Nor Loch', lined in pillars of decorated stone echoing the 'modern henge' Royal Scots memorial and surmounted with a golden copper roof in the spirit of the 'Ross Fountain'.